Floral Favorites : Peonies
It's Peony Season!
If ever there was a flower that needed no additional fanfare or introduction, it's the peony. A universal favorite worldwide for its huge, billowy, highly scented blooms, peonies are favorites of brides, gardeners, and floral enthusiasts everywhere. Known for its romantic, ruffled petals, vibrant colors, and delicious perfume, the peony blooms in our part of the world in early May – making it one of the true harbingers of summer. And although peony season is fairly short – lasting only 3-4 weeks, depending on the varieties, it makes the arrival of this glorious bloom all the more special and worthy of celebration. To our mind, all peonies are gorgeous! But there are a few varieties that are worth a special mention.
The bride's favorite: Coral Charm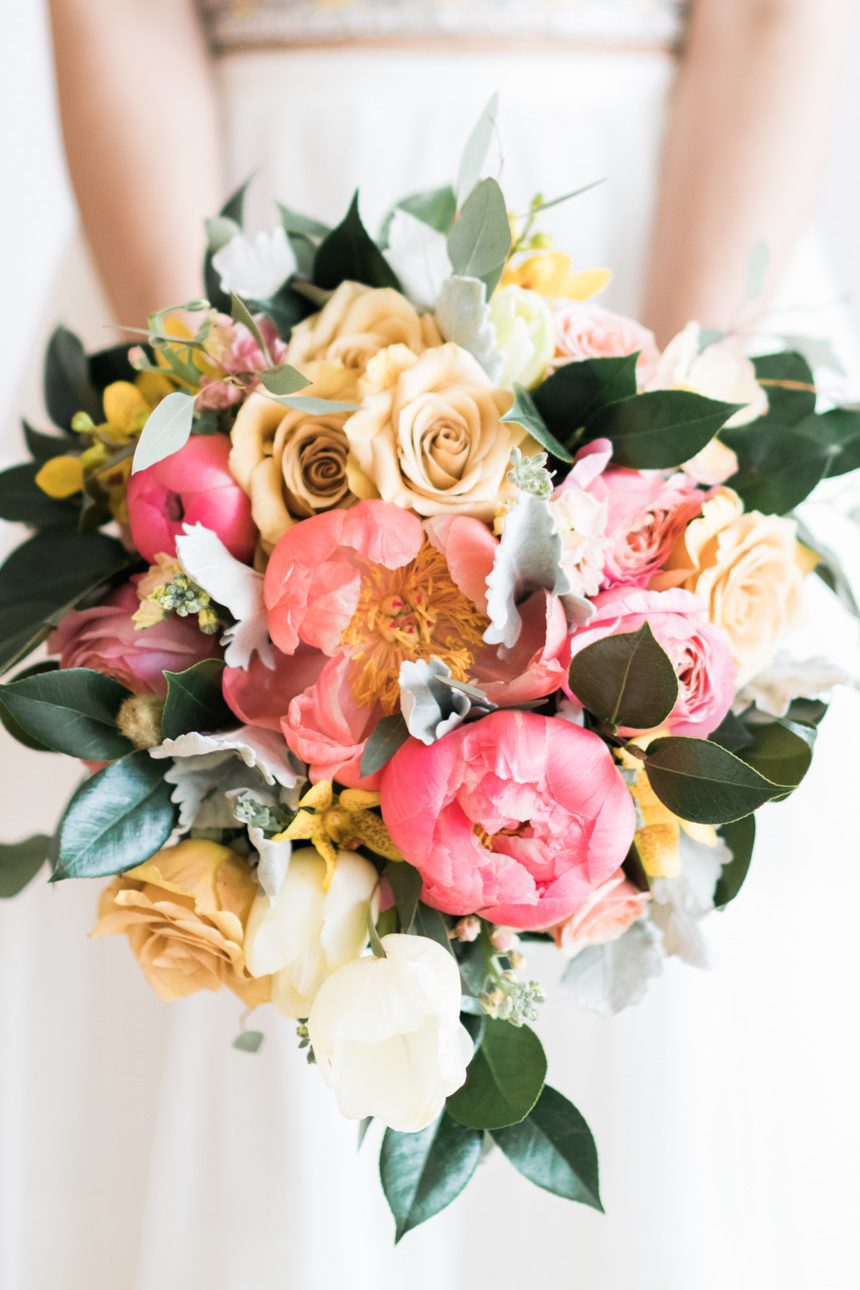 The readily available, affordable, and always reliably beautiful variety: Sarah Bernhardt
 The elegant all-white variety: Duchess de Nemours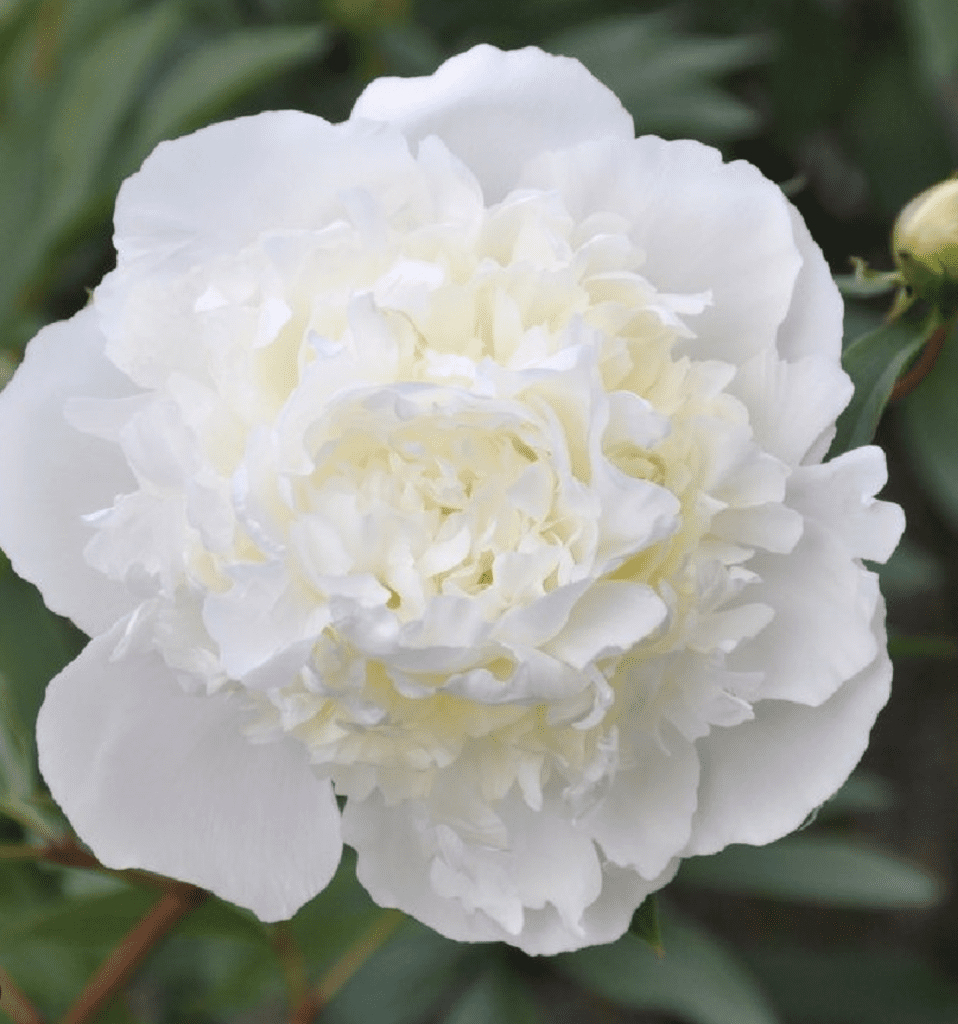 The dramatic double peony: Karl Rosenfield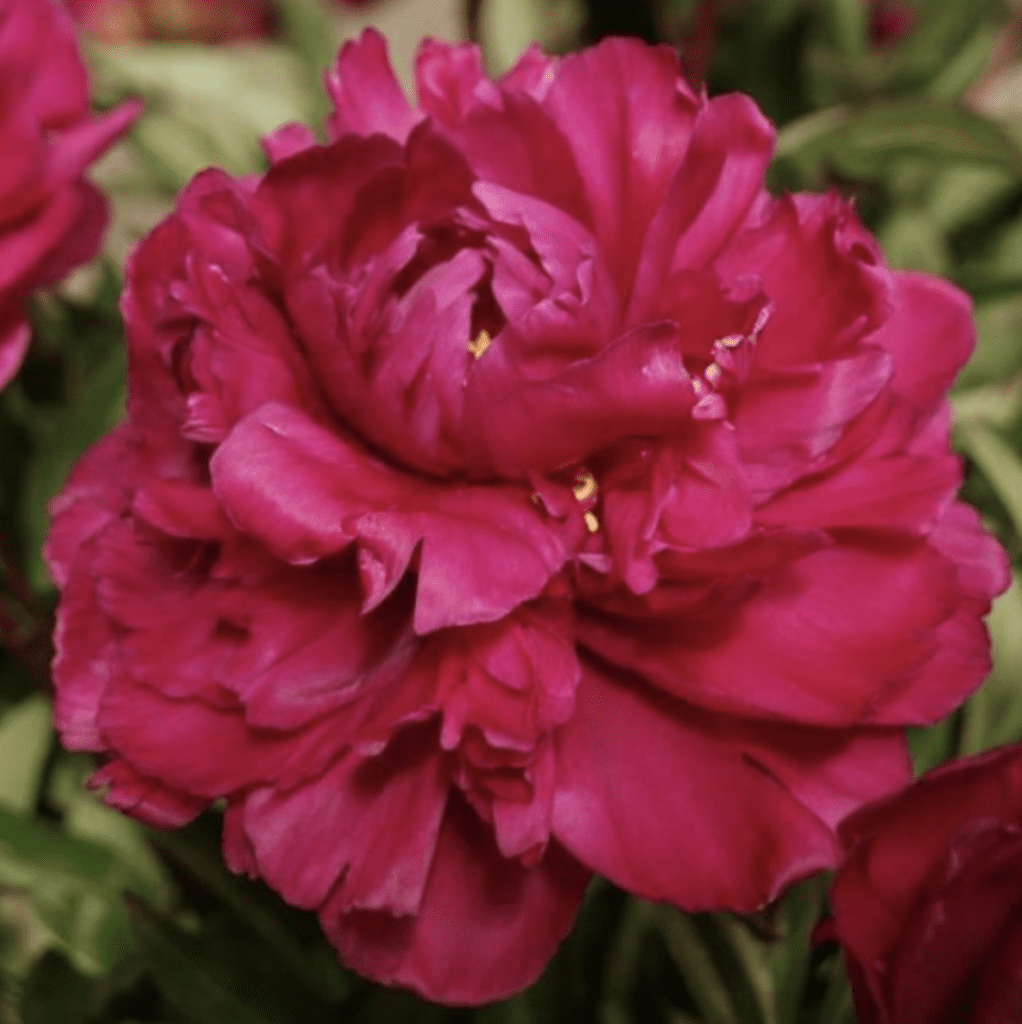 Caring for your Peonies
One of the most rewarding facts about this all-star plant is that it thrives in most parts of the world, producing gorgeous flowers year after year with little or no attention. All it requires is the right position, some patience, and a watchful eye to harvest armfuls of peonies from only a handful pants in your own garden. This means of course, getting the initial location and conditions right from the start: Peonies prefer well-drained soil, in a location that receives on average at least six hours of uninterrupted daylight. It's essential to find a spot where your plants won't be at risk of standing in water. Treating your plants to a dose of bone meal in early March when new growth is just beginning will help ensure they have the nutrition to produce lush blooms throughout the season. Good air circulation is also key to avoid botrytis – a fungal disease that's naturally present in most soils that can become problematic if the plant is fragile and weak or if the weather turns suddenly cold and unusually damp. The first signs of botrytis are blackened stems and buds or signs of rotting at the base of the plant. If these occur, cut off any infected areas quickly and dispose of them in the trash, rather than your compost heap – where the fungus will only thrive and multiply.
Once you've found the ideal location, the first watchword is patience; plants rarely bloom the first year and ideally, should be left to establish themselves for three years or more before you begin to harvest from them. The second watchword is support: these beauties are famous for their "lollipop" heads – long, slender stems topped with heavy, round buds. All it takes is one rainstorm and those heavy buds, now water-logged, are all too easily toppled under their own weight and there go your beautiful blooms! It's a predictable problem that's very easily solved by investing in some peony supports, which provide scaffolding to the plant while allowing leaves to continue to grow through the rings.  
Harvesting and Designing with Peonies
Harvesting your peonies is best done when they are still in bud, fully developed, and with a bit of color showing. If, when you gently squeeze the bud, it's soft, like a marshmallow, it's perfect for cutting. However, if it's still firm, leave it on the plant to ripen longer. Be certain to leave two sets of leaves on the stems when harvesting so that the plant can continue to grow and store nutrition for the rest of the summer. Do so either in the early morning, or evening, cutting the stems at an angle and displaying in a clean vase of fresh, cool, water – away from direct sunlight and heat. It's normal for cut peonies to last anywhere from a week to ten days if you occasionally re-cut the stems and change the water regularly. 
Another trick to make the most of the short blooming season is to harvest any extra buds and store them in the refrigerator for up to three weeks if need be. Make sure you remove almost all leaves, bunch the stems together either wrapped in dry paper towels in a plastic bag or wrapped in newspaper, and store them in an empty, clean, produce drawer, away from any other fruits and vegetables, and well away from the cooling element. Check regularly for any signs of mold. When you're ready, simply recut the stems at an angle, put into a vase of fresh water, and the buds will take at least twenty-four to forty-eight hours to open completely.  
So, what other flowers happily go with peonies? Obviously, peonies make a dramatic, romantic statement all on their own – whether luxuriously bunched in groups or showcased in bud vases as single stems. We prefer to showcase peonies with other seasonal flowers.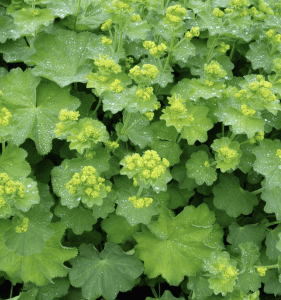 The fresh, citrus green of Lady's Mantle is a perfect complement to the ruffled billowiness of the peonies' petals.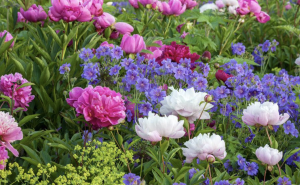 A few luminescent stems of Cranesbill Geranium complete the arrangement – making a simple yet elegant statement about all that is abundant and seasonal in the month of May.
However you choose to enjoy them, peonies are one of the true delights of late spring and a constant reminder that life is always renewing itself in the most miraculous ways. 
Written by Kathleen Tessaro for The Blue Daisy Floral Designs