Let the Sunshine In: Spring Floral Favorites
As the days begin to lengthen and the sun starts setting later and later, we find ourselves eagerly scanning the landscape for the first signs of spring – bright citrus green shoots poking up definitely through snow and frozen earth, followed by miraculous bursts of color that promise the end of winter. Soon the gray leafless scenery is dotted with drifts of golden yellow daffodils, banks of brightly hued tulips, and the woodland floors are thick with the gentle bowing heads of hellebores. Though sandal weather may still be some months away, these wonderful blooms give us a much needed dose of hope and the pleasant expectation of warmer, sunnier days ahead.
Here at The Blue Daisy, we're naturally excited to celebrate all the wonderful floral offerings of the season. Here's a look at a few of spring's undeniable hero flowers along with a brief guide to the varieties we're anticipating most, and how we're planning to use them in our designs over the next few months.
Few flowers are more iconic or have a more remarkable cultural history than tulips. Whole volumes have been written on Tulipmania- their extraordinary, if brief, rise as Europe's most sought-after and valued commodity during the Dutch Golden Age. As a result, thousands of distinctive cultivars exist within the genus; making them one of the most readily available and successful cut flower varieties of all time. Among the most easily recognizable varieties are the Darwin Hybrids, the smaller Greigii tulips, Fosteriana, Kaufmanniana, Lily-Flowered, Emperor, Rembrandt, Parrot, Fringed, and, the more recently developed late blooming Double Peony tulips, which have become so popular. There are also early, middle, and late blooming varieties, meaning that tulip season extends anywhere from early March through to late May in our region.

Tulips are heliotropic, which means they twist and move to face the light as it shifts during the day. This habit of "stretching" towards the light often gives the impression that they're continuing to "grow" in the vase, though that's not entirely accurate. For some, their arching habit is a delight to be celebrated, as in the Old World still life paintings of the Dutch Masters. However there are those who battle in vain to keep their tulips strictly in line. Old wives tales abound about how to keep tulip stems straight – from putting a penny into the bottom of the vase, to dosing them in vodka. However, because their stems are virtually hollow and particularly prone to become clogged with bacteria, these methods are more likely to shorten their vase life than prolong it. An easy fix is to rotate your vase throughout the day and keep stems clear of bacteria by changing the water regularly and giving them a fresh cut. A clean vase is also essential. With a little extra care, tulips can have one of the longest vase lives around and give you anywhere between 7-10 days of pleasure.
We're lucky to be able to source our tulips either directly from the master growers in Holland or, when they become available, from specialist local farmers like Haley at Brynhill Flower Farm and Lauren at Cut & Gather. Both are dedicated to planting unique varieties that simply can't be sourced anywhere else. We're especially looking forward to this season's crop of delicate yellow and white Sweetheart tulips, lush apricot parrots, and all the wonderfully lacey frill varieties that add elegance and texture to bouquets and arrangements.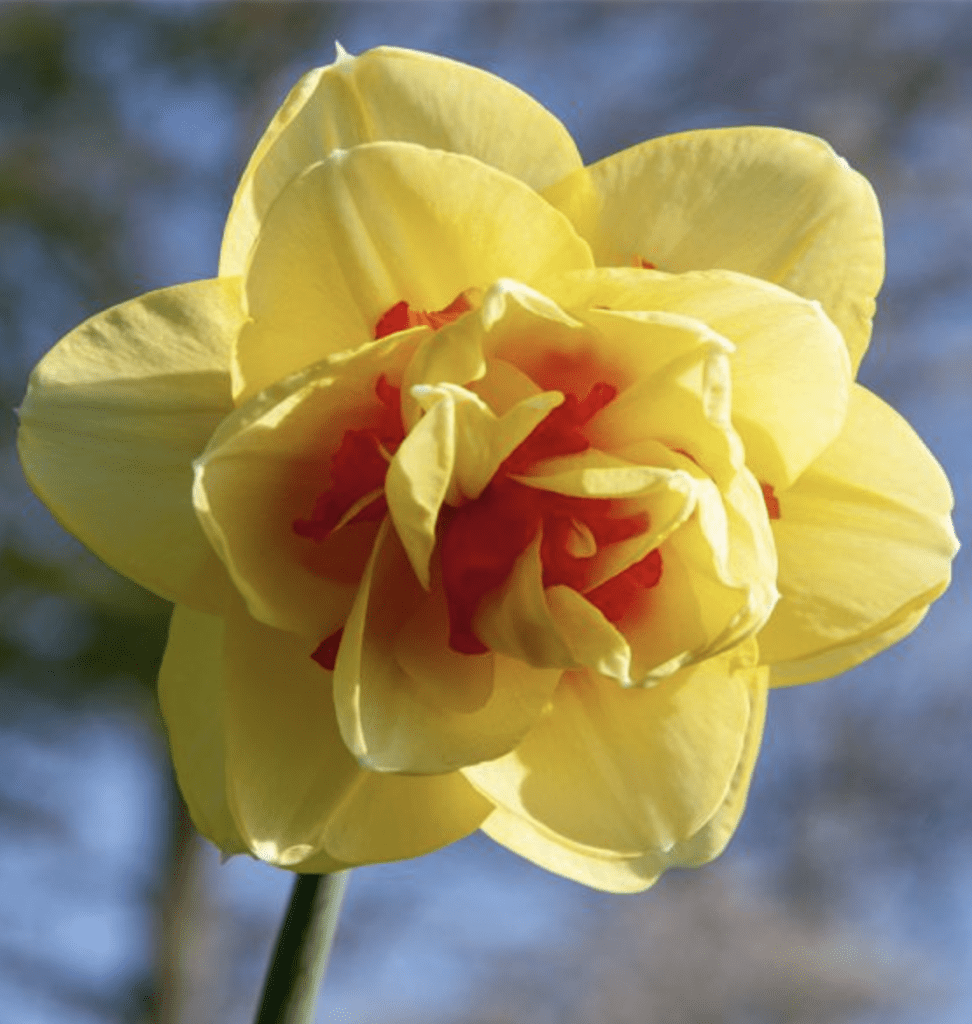 Another seasonal favorite of ours, daffodils, again comes in literally thousands of exquisite, unique hybrids. Sadly though, one doesn't often see anything other than the traditional all yellow blooms for sale. That's another reason we foster close relationships with local growers; not only do locally grown narcissus last longer, they're naturally scented with a delicate, fresh "green" perfume that's far more subtle than the lush sweetness of hyacinths or lilies. Among our favorites are the double bloomed variety Sir Winston Churchill, the golden Tahiti with its sweet peach eye, and the rare, silvery white Thalia blooms. It's worth noting that all of the narcissus family are toxic and need to be carefully processed, as they emit a sticky white sap when harvested that can easily contaminate other flowers if you're not careful. The key is to condition them in a separate container and allow time for the sap to drain completely before arranging.
One of the most exceptional and truly exquisite of all spring flowers are hellebores – otherwise known as Winter or Lenten Rose. Cultivars can be found all across Europe, China, and North America, flowering in our region from late winter right through to mid-June. The plants can take a couple of years to establish themselves but, once established, quickly become prodigious blooming perennials, naturalizing and spreading easily in shaded areas. Newer hybridized varieties have yielded a wide range of dramatic color options, from a velvety near-black, dark gray, rich plum, saturated purple, and burgundy through to pale pinks, translucent whites, and even rare picotee varieties. There are also double, semi-double and anemone centered cultivars, providing florists a wide range of design possibilities. We adore using hellebores for their gentle arching habit, refined simplicity, and iconic seasonality. However they are notoriously tricky to hydrate and, for this reason, were long considered unsuitable as cut flowers. But, with a little extra care, these beauties make excellent additions to bouquets and arrangements. At The Blue Daisy, we gently score the stem, then submerge them in water right up to the flower head, leaving them in the cooler to condition overnight. By the next morning they're ready to use, consistently lasting up to ten days in water.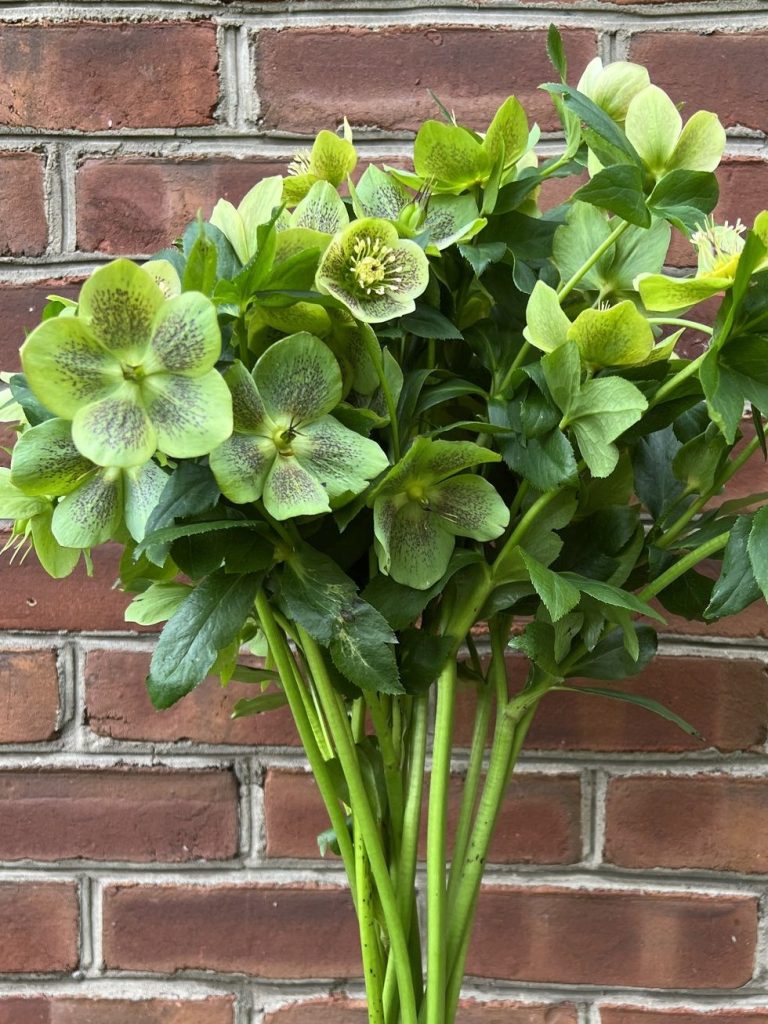 Starting this month, we'll be featuring these wonderful seasonal blooms in all of our bouquets and arrangements. Check out the latest offerings of our full range of spring flowers  – suitable for celebrating Easter, Mother's Day, or as a much-needed treat for a friend, loved-one, or even yourself! 
It's time to let the sunshine in!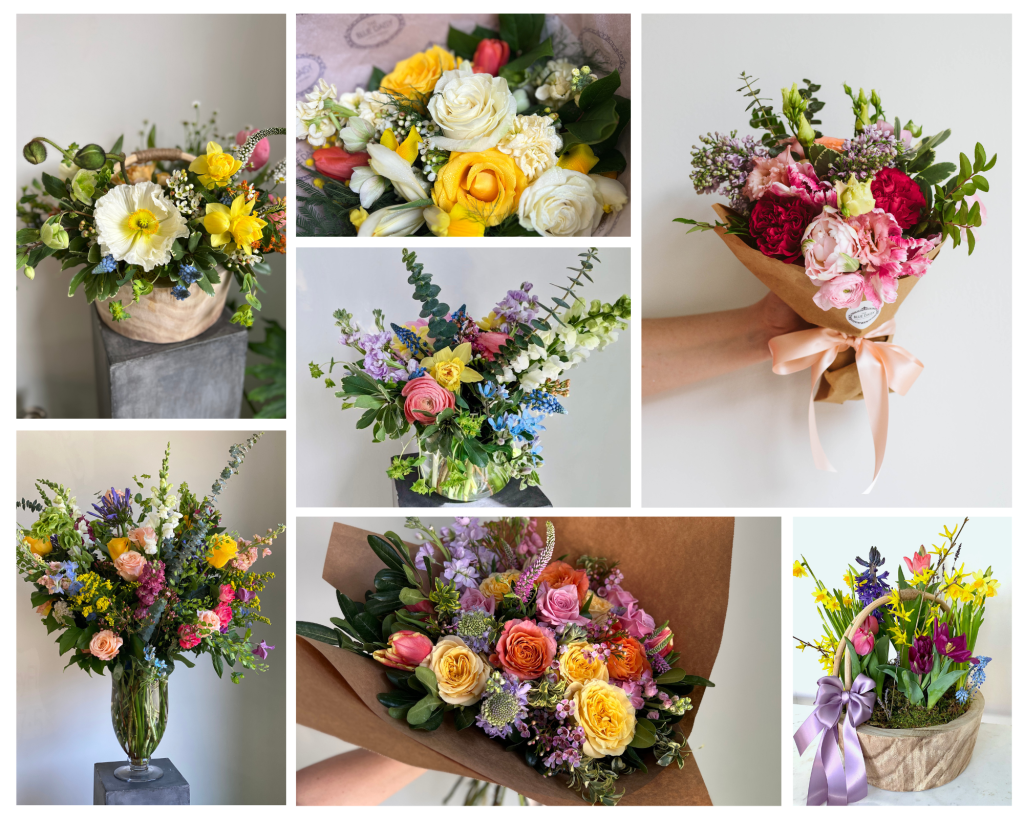 Written by Kathleen Tessaro for The Blue Daisy Floral Designs