An Artist's Autumn Wedding for Maria & Nick
Private Residence | Pittsburgh, PA
While I 100% believe that your wedding day is about your marriage and your love, there is something deeply beautiful about having the opportunity to express your style and your talent on your wedding day and sharing that with your closest friends and family.
When an artist comes to me to design their wedding, it is the highest compliment. Whether that artist is a painter, a photographer, a graphic designer, or something else. To be trusted to take an artist's vision and make it come to life in flowers is magical. Such was the case when Maria brought her vision to me. This woman knows color and how to use it. A woman after my own color-loving heart. And the couple could not have chosen a better photographer than Tiffany from Hot Metal Studio to capture their day.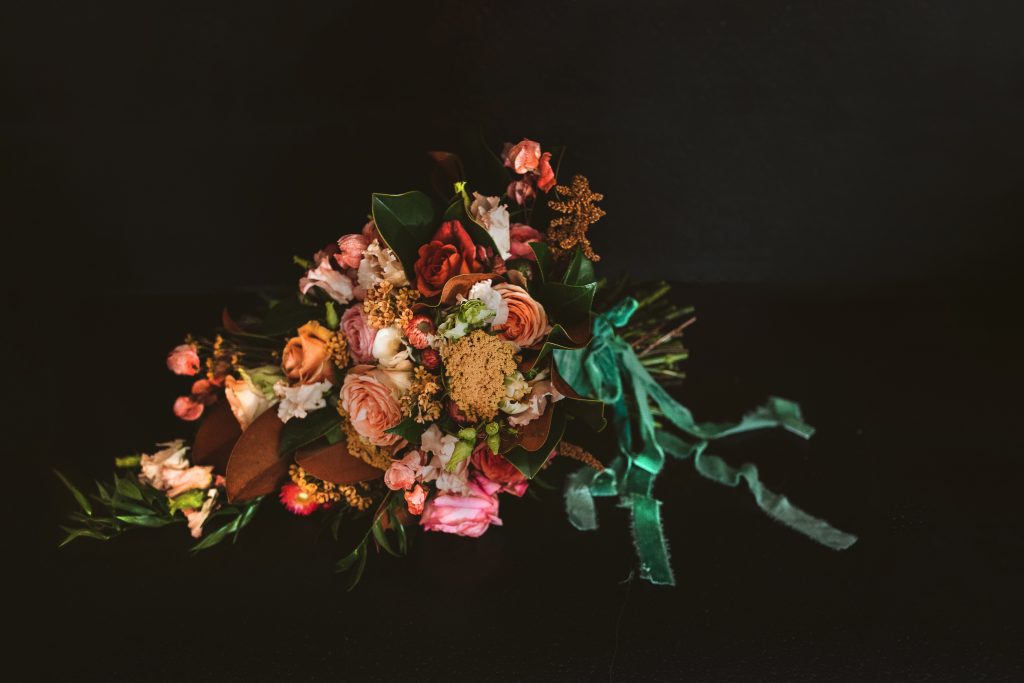 How Maria describes their wedding…
"Two things coming to mind about my wedding are a colorful palette and romantic details… I guess I subconsciously treated my wedding like a painting- cohesive, abundant color and contrast with well balanced details."
She continues "I'd say my approach was somewhat traditional without being cookie cutter/unconventional without being to trendy."
If you love Maria and Nick's wedding day style, you will sure love Maria's art. Here's where to find her:
On the Web: MariaIgnelzi.com
On Instagram: @ria.teresa
If you're looking for a Creative Floral Partner…
For your wedding, event, or project, we'd love to hear from you! Get in touch to tell us how we can make magic together.
Vendor Team
Photography: Hot Metal Studio | Ceremony Venue: St. Alexis Catholic Church | Reception Venue: Private Residence | Floral Design: The Blue Daisy | Event Rentals: Eventioneers | Bridal gown: Rebecca Schoneveld from Luna Boutique | Bridal shoes: Mi.iM Shoes | Bridal earrings: A.B.Ellie | Hair: Salon Bella Rae | Makeup: Adrienne Pace | Bridesmaids' Dresses: Jenny Yoo | Rings: Jewelry by Alicia and Scott | Bouquet ribbons: Honeysilks & Co. | Cafe shoot location: Adesso Cafe