Funeral Flowers
The Blue Daisy Floral Designs offers a collection of customized funeral designs in our trademark naturalistic, English garden style. There are a number of color palettes to choose from and we're always willing to incorporate personal preferences where possible. Please feel free to fill out our contact form below so that we can better assist you. Once we receive your form, we'll be in touch. You are also welcome to give us a call at 412-367-5810 to speak to one of our designers.
If you would like to send a sympathy arrangement, please visit our shop here.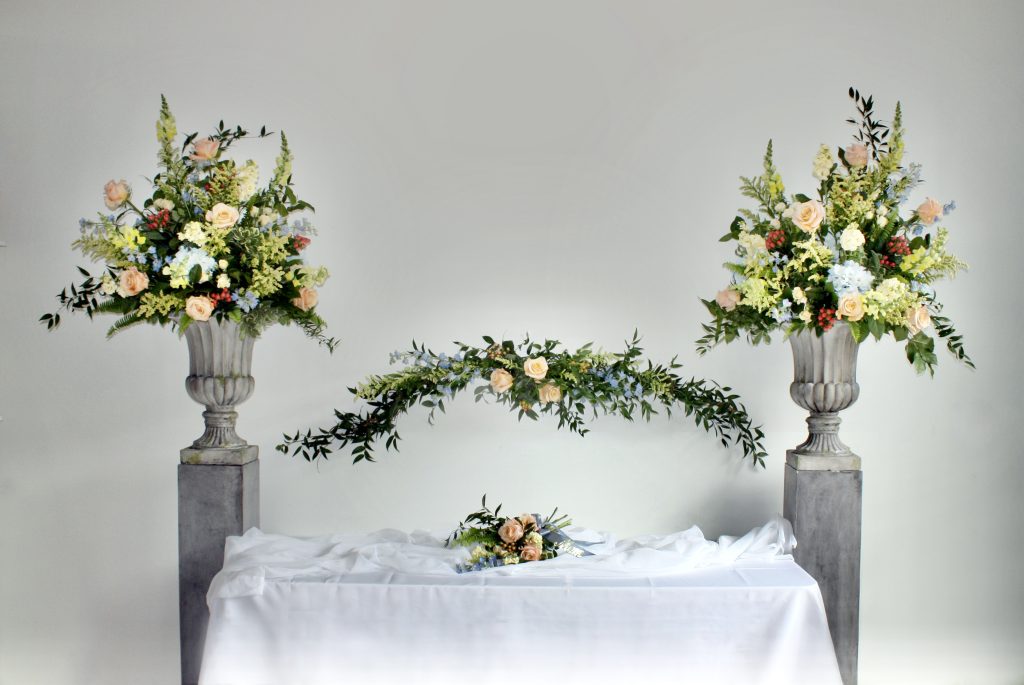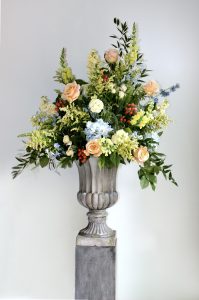 Classic Garden Urns
Two elegant, beautiful statement pieces filled with fresh seasonal blooms that lend proportion and height to the viewing parlor.
$800 for a set of two urns. Price shown includes the rental of two large classical urns. The urns will be picked up at the end of the viewing by our team.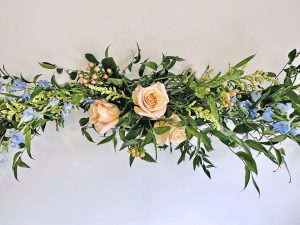 Casket Lid Spray
A graceful, naturalist element that softens the line of an open casket, augmented with flowers that complement the other memorial selections. The lid spray mechanic is a rental item and will be picked up by our team at the end of the viewing.
$180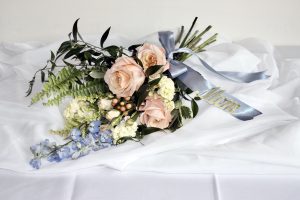 Handheld Posy
A small bouquet of fresh flowers, finished with a satin ribbon in the color of choice.
$95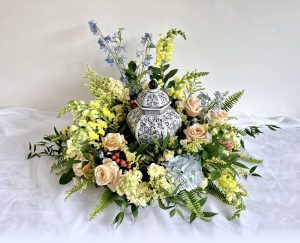 Cremation Urn Wreath
A lush, low arrangement of fresh blooms that encircle the urn with a garden of greenery, color, and texture.
$395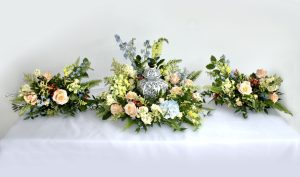 Cremation Low Arrangements
Two lush, low floral arrangements designed to sit on either side of the cremation urn, mirroring one another and creating a beautiful, elegant focal point.
$175 each
Color Palette Options
Cool delicate pastels – shades of lavender, pale pink, light blue, white, and green
Bright soft pastels – shades of cream, peach, white, light blue, and green
Elegant simplicity – shades of white, cream, with a variety of greenery

The Elegant simplicity palette is also available with the following customization options: touches of blue, touches of yellow, touches of pink
Full and half casket sprays available upon request, starting at $500.
We're always open to creating something unique to honor your loved one. Please give us a call directly to discuss your vision.
All flowers and materials are subject to availability and market price.
If you would like to send a sympathy arrangement, please visit our shop here.