Meet The Team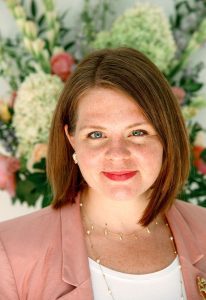 Stephanie Kirby
Stephanie Kirby is the Owner and Creative Director at The Blue Daisy Floral Designs. She was born and raised in Irwin, PA, a suburb of Pittsburgh, where she grew to love plants and flowers while spending spring afternoons in garden centers with her mom. As she grew older she began using her mom's garden as a source for fresh flowers and was constantly snipping blooms and making arrangements. Stephanie would eventually turn this love into her major at Penn State University and career with 20 years of experience in floral design and horticulture. It is her greatest pleasure to pass this passion on to her clients and she strives to make every experience a positive and gratifying one.
Her favorite designing to do is the bridal bouquet, however the part of her job she most loves is connecting flowers and people. There is no greater honor than to make someone feel happiness and love when they receive flowers.
Stephanie lives in the North Hills of Pittsburgh with her loving and ever-supportive husband, Patrick, their two young daughters and their derpy pit bull. In her spare time, she enjoys reading, napping outside, and is always planning to re-decorate something.
Mary Jo Dowling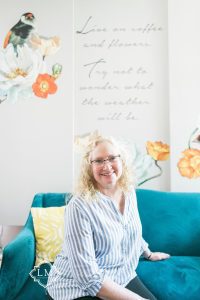 Designer Mary Jo Dowling has been with The Blue Daisy Floral Designs team since March of 2018. Two years prior, we had the pleasure of designing her daughter's beautiful wedding and Mary Jo came to us looking to expand on her already impressive career in the various arts. She holds a Bachelor's degree of Fine Arts in Illustration from Carnegie Mellon University. For 15 years Mary Jo worked as an art director at CMU, after which, she put her skills to use in the culinary world by becoming a Certified Master Sugar Artist. Her business, Frosting and Crumbs, creates amazing and delicious cakes and sweet treats.
Mary Jo always has a creative solution to any challenge we face on the design floor and has a quick eye for color. Her favorite designs to create are intricate cuffs, boutonnieres, flower crowns and floral jewelry. She is also the one who tends to keep our shop neat and tidy which is always appreciated!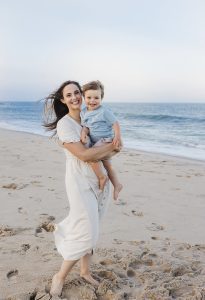 Amanda Scanlon
Designer Amanda Scanlon began working with The Blue Daisy team in 2021 when she moved from Cincinnati to Pittsburgh. Her degree in Landscape Architecture from Penn State University and experience working in the design field has prepared her well for floral design. She has practiced in various mediums such as graphic design, drawing, sketching and painting. While in Cincinnati, Amanda also worked for a wedding planning company helping couples envision and design their most important day.
Amanda brings an outside perspective to the studio which spurs unique problem solving. Amanda most enjoys creating large centerpieces and installation designs, but also finds joy in creating retail arrangements. When not at work Amanda can be found chasing her toddler son and her two adopted boxer-mix pups!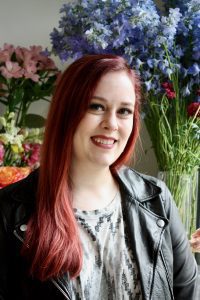 Lauren Lester
Lauren Lester is our Office Manager and Inventory Manager. She joined the team in 2020 and holds a B.A. in Business Marketing and a minor in Professional Writing from Chatham University. She has prior experience in the wedding industry in a similar role as well as experience in fashion retailing, management, and social media.
Lauren is the one behind most of our client communications and is the first person our clients come in contact with then they reach out to schedule a consultation, inquire about availability, or have a question about an order. She enjoys when things are organized and have a purpose. Colored post-it notes make her happy! Lauren is the behind the scenes maven at The Blue Daisy Floral Designs and keeps the machine running!