Full Service vs. Little Flower
The Blue Daisy wedding offerings explained
You may have heard of our newer wedding flower option, Little Flower by The Blue Daisy, but what's the difference? We are here to provide in-depth answers to our most frequently asked questions about the differences between a Full Service Wedding and a Little Flower wedding.
Design Process
With Full Service, we are going to get as in depth as we possibly can to create your dream wedding vision. We ask for a lot more information from you before we even schedule your first consultation so we know what you're dreaming of and can help guide you in the right direction during your consultation. Full Service consultations typically take place in our studio (but we can also do virtual) and are about 90 minutes long. During this time, Stephanie, our Owner and Creative Director, will go over all of the details for every last bit of your wedding. You will also be able to look at our extensive collection of rental vases, stands, structures, candles, candle holders, etc. Stephanie will help you select the best vessels and accent pieces for all of the colors and flower varieties that you love. She will then provide you with a detailed proposal of all the items you need. The proposal will include your inspiration photos, a design board of flowers, vessels, and accent pieces so you get an overview of the style. Each item will be outlined and include pricing. We can even provide you with a "possibilities" section for those dream items that you need more time to think about. After the consultation, we are happy to make adjustments to your proposal to get it to a point where you are ready to book. We are always available via email or phone to answer questions or make updates to your proposal throughout your planning process.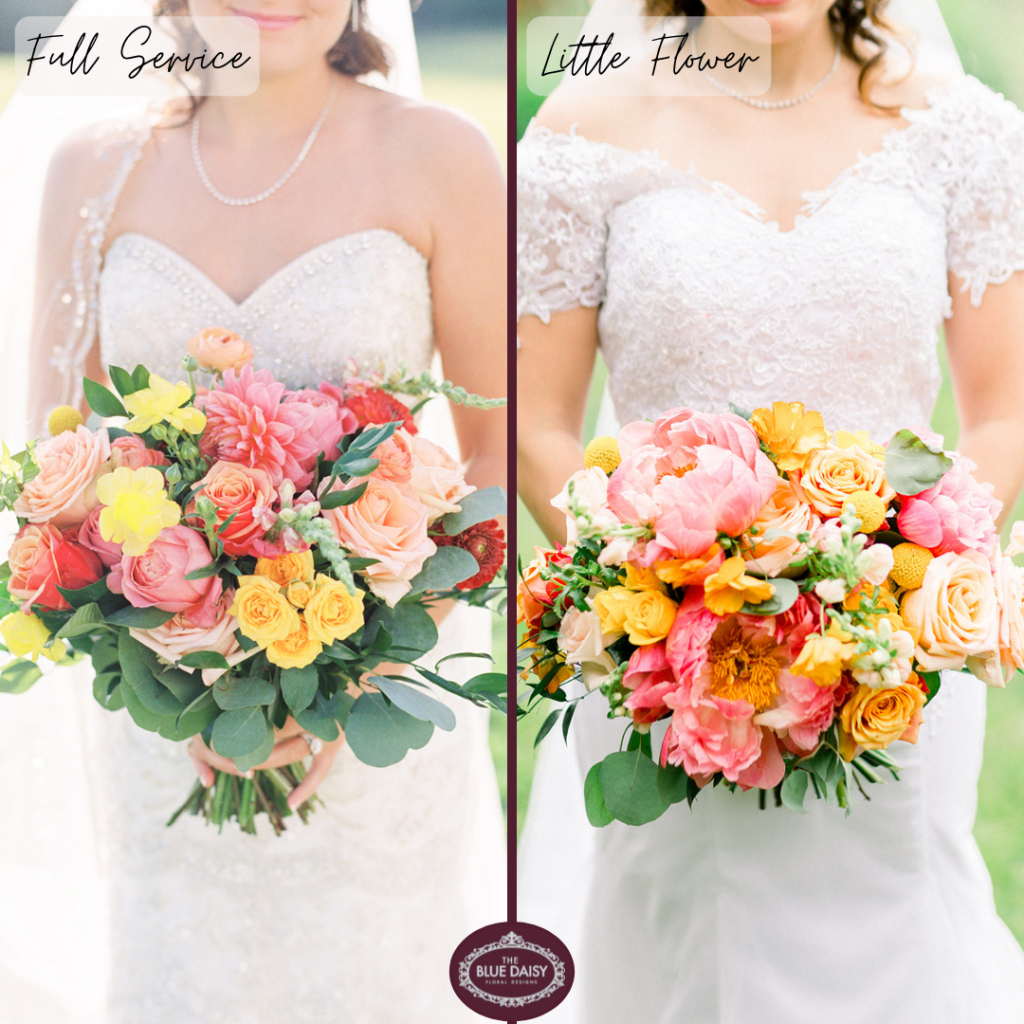 With Little Flower, this process is simplified. Your initial consultation is 20 minutes in length over the phone. During the call, a Lead Designer will confirm all of the designs you are looking for and the color and style you are dreaming of for your wedding. They are also happy to answer any questions you may have about how everything works. After the call, you will receive a proposal of the items that you need with pricing. This proposal will give you an idea of costs based on what you need, but will not include specific flower types or containers just yet. We can definitely work with inspiration photos for Little Flower, but we are not going to replicate another florist's work. Instead, we will use the photo as inspiration to inform our floral variety choices.
Little Flower proposals do not include inspiration boards, but will include a short description of the design style and colors we will use based on the information provided by you. We also do not include specific flower types with Little Flower as this package is defined as "designer's choice." Designer's choice means we bring in the freshest and most perfect blooms on the market at the time of your wedding to fit within the color palette, style, and price range of your order.
Once you have booked Little Flower by The Blue Daisy for your wedding, you can sit back and enjoy being engaged!
Costs
You may have noticed one of the biggest differences between Full Service and Little Flower is the cost! There are a few different reasons for that.
Full Service weddings come with a minimum investment of $8,000 before sales tax. That sounds like a lot, but there's also A LOT that goes into your wedding! We call it an investment because that's exactly what it is. You are investing in an experience and wonderful memories for yourself, your new spouse, and your guests. Plus, you're celebrating a huge life event! You will have photos and video footage of your wedding forever and your flowers will feature prominently in many of those photos. This is why we always recommend hiring excellent and experienced wedding photographers, but that's another blog post for another day.
Creating that magical experience takes a lot of time and planning! We spend time providing you with 2 consultations, a detailed proposal that we update many times throughout your planning process, carefully selecting your flowers, creating "recipes" for each design for our designers to work from, ordering each and every stem from our wholesalers, processing flowers and greenery, designing your pieces, delivering and setting up everything… the list goes on; and time is money as they say! So it's not just the physical end product. You're also getting our experience and creativity in every event we do.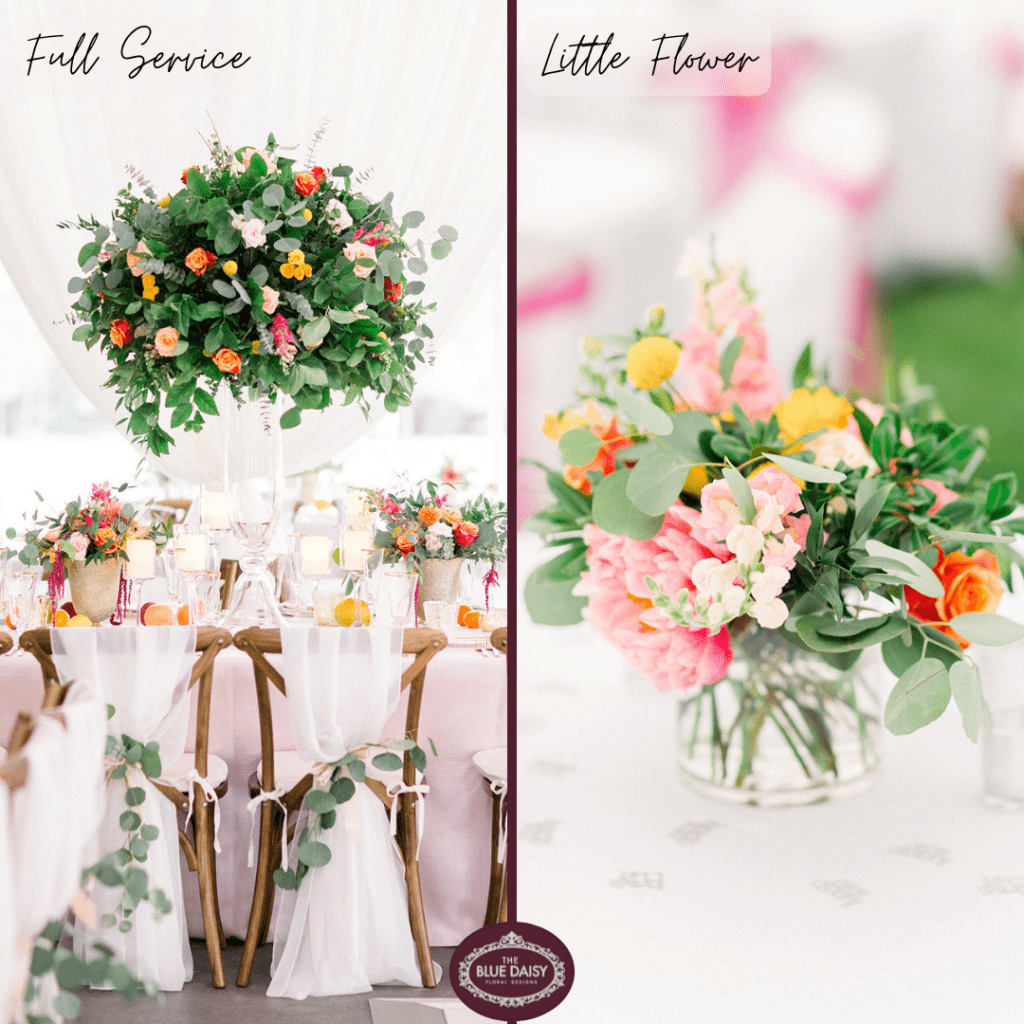 Little Flower packages start at $500. The pricing for each of the available Little Flower designs is lower than Full Service. The reason for this is that this package doesn't just streamline the entire process for you, it also streamlines it for us! We don't spend quite as much time on all of the details for Little Flower as we do for Full Service so we are able to adjust prices a bit to reflect that. But don't let that seem like you aren't getting the same level of expertise, because you are! That's why we created this package. To be able to offer our designs to couples who don't want to spend all that time planning and maybe can't fit an $8,000 floral investment into their wedding budget or just simply don't need as much floral. They've seen our work and know what we can do and are willing to let our design team do what they do best.
All that being said, there are also outside factors that can affect pricing that we have zero control over. The market is fluctuating constantly and fresh cut flowers are more expensive now than ever. Especially around major holidays like Valentine's Day, Mother's Day, and year end holidays. Your wedding flowers are going to be more expensive during Mother's Day weekend because of the increased demand across the board. (Don't worry, we aren't going to give you an economics lesson!)
Finalizing Details
Once we are officially booked for your Full Service wedding, you can look forward to a second in-depth final consultation. Typically, final consultations are about 45 days prior to your wedding so we can confirm all the details for all the designs you need as well as nail down our event schedule for the day. We will ask you to confirm counts for all of your bouquets, boutonnieres, corsages, reception guest tables, etc. We will also talk about linen colors, lighting, and other details to make sure that our floral designs will fit perfectly with the rest of your wedding aesthetic. We can even partner with your other vendors for installation pieces or other fun elements!
Samples of your wedding floral designs are available so you can preview your wedding flowers during your final consultation. We don't do these super often, but it is available for clients that request it so we can make sure everything will be perfect. Typically, our clients will ask for a bridal bouquet or a table centerpiece sample. If you go with a centerpiece, we can have your linen company drop off sample linens at our studio so we can set up the table to look like it will at your reception.
Once we have everything finalized, you are happy with your proposal, and any remaining balances have been paid, we will send you a form asking for important information that we need to ensure that our delivery and installation of your flowers goes smoothly! Timing is crucial so we want to make sure that we are in the right place at the right time and if we do our jobs perfectly, you'll hardly see us at all on your wedding day. We work hard behind the scenes so you can enjoy your big day!
For Little Flower weddings, we still want to make sure we have all the details confirmed, so we will schedule another 20 minute phone consultation with you to make sure nothing has changed or adjust your proposal if things have changed. Once we've finalized everything, you're happy with the proposal, and final balances have been paid we will send you a much shorter form to confirm pick up date, time, and person.
Often, clients send a friend, family member, or planner to pick up the flowers on their wedding day so we want to know who to expect. We will also provide pick up and care instructions and we even have a library of informational videos on how to hold your bouquet, how to pin a boutonniere, and more so you will be prepared. We don't offer delivery, set up, or clean up with Little Flower, which helps cut back on costs.
---
Hopefully this helps explain things, but if you have any questions please let us know! We are happy to help however we can. We just want to make sure you have beautiful wedding flowers that you will love! If you're ready to book a consultation check out our Full Service or Little Flower wedding pages. There's a form at the bottom of each of those pages we would love to have you complete. Those forms give us some very helpful information to get started, as well as allow us to get you set up in our proposal software so we can send you your beautiful floral proposal!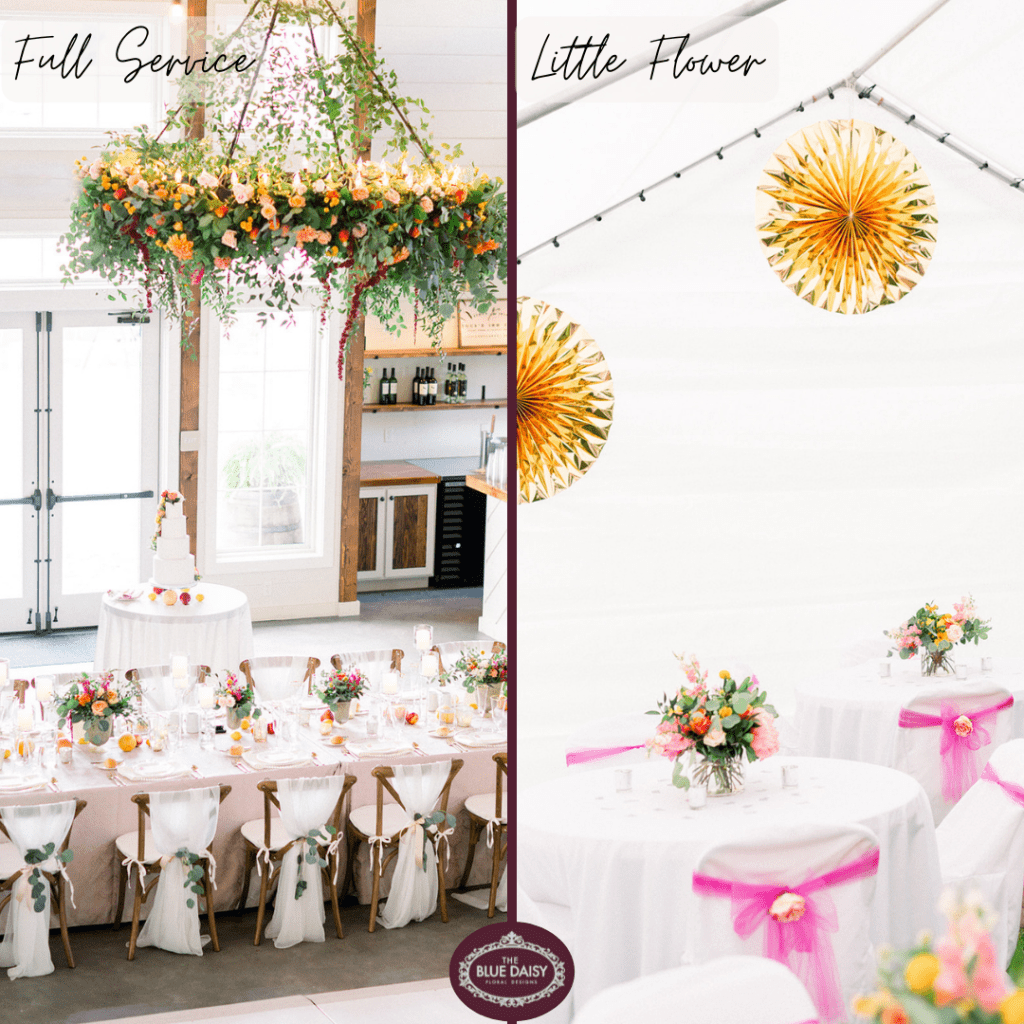 Photography: Abbie Tyler