Wedding Ceremony Flowers
And why they're so important
When planning your wedding flowers, do not dismiss the importance of flowers at your ceremony. Oftentimes, we hear couples say something like "We don't need ceremony flowers, we will only be there for 10 minutes." While this is sometimes true, an over-looked fact is that a majority of your most important photos will be taken during that time. Furthermore, your ceremony is often your guests' first introduction to the experience of your actual wedding day as well. Whether you're having an hour-long Catholic Mass or a 5 minute self-uniting ceremony, do not skimp on the flowers!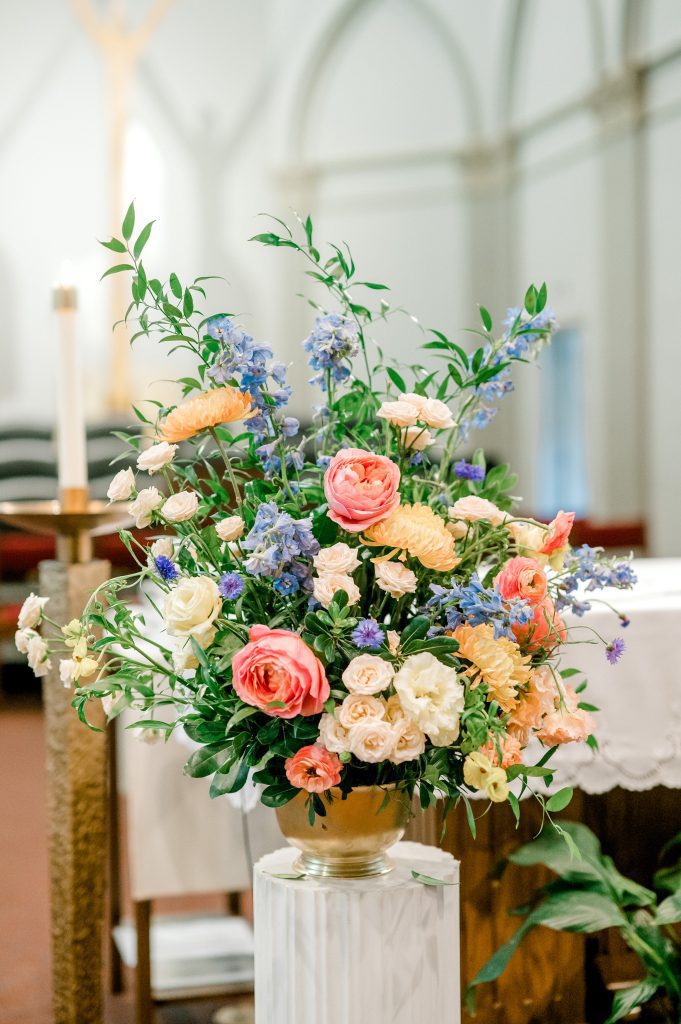 Ways to make the most of your Wedding Ceremony Flowers
In a church setting, having flowers placed at or near the altar will soften the architecture. They are a great way to incorporate your color palette and style into the space. This will carry through in the guest experience and in your photos. You'll want to consider the scale of the altar space. How will your guests view you from the pews or seating? When they are sitting, will they be able to see the flowers if they are small and placed behind the officiant, minister, rabbi, priest, etc? Be sure your arrangements are to scale with the space and placed where they will have the most impact. Check with the church about any rules or recommendations they have. 
Religious or personal significance and traditions might play a part in the type and placement of flowers during your ceremony. I suggest speaking with family or your church to explore options if you do not have something specific in mind. You might be surprised at how flowers can speak more meaning into your vows!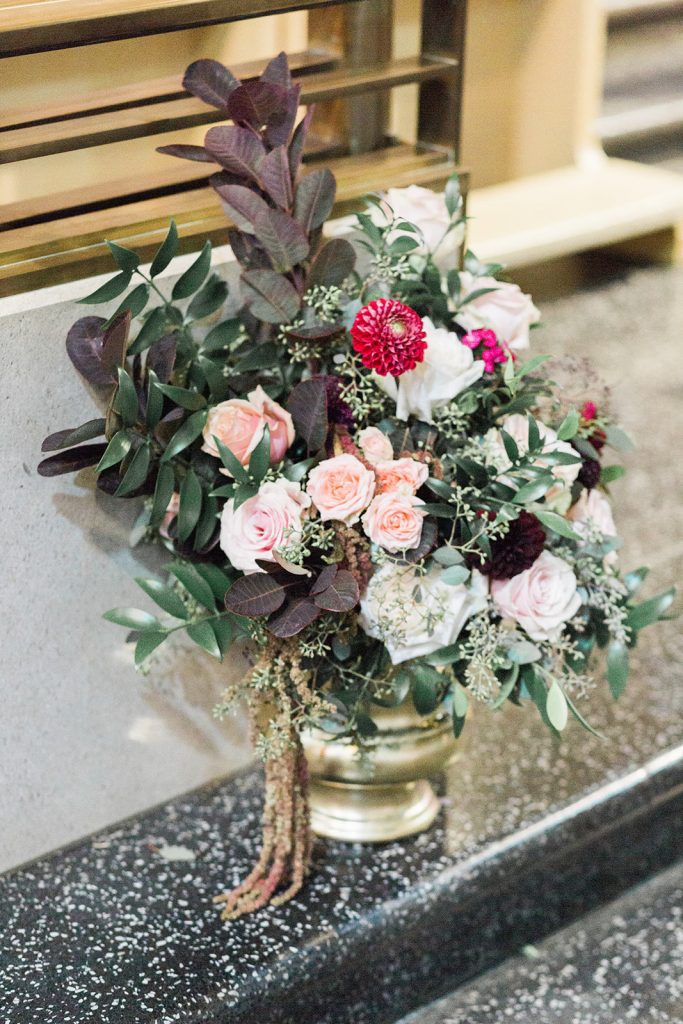 Flowers are the best way to signal the significance of the space for a ceremony in a ballroom, field, or other venue where the altar is being created. Large urns or pillars, or a structure with floral adorning it can anchor the space during the ceremony. These pieces provide context and visual weight in the photos. Furthermore, before the ceremony, your guests will be seated for some time. Having an anchor point, stage, or altar set envelops them in the experience of your wedding day. The ceremony flowers immediately set the tone of the day. A great way to make a wide-open area feel intimate is to add flowers along the aisle.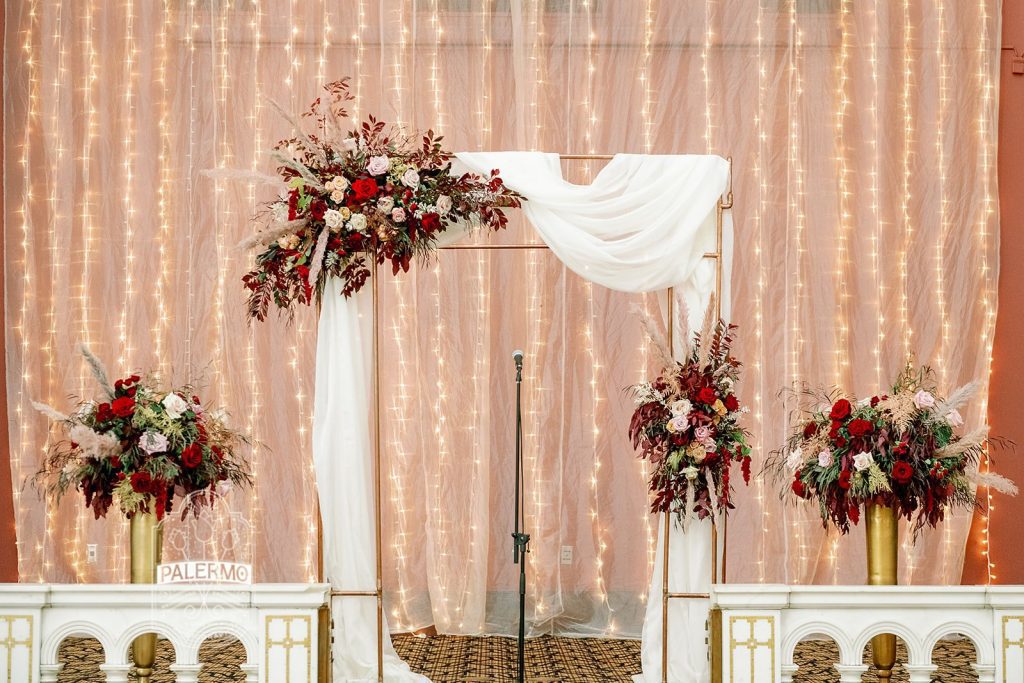 Another consideration when planning your ceremony flowers is the rules of the space. As previously mentioned, check with the venue to find out if they have specific restrictions for the flowers' placement. This is especially important in a church where certain methods of placement could cause damage. There can also be restrictions for religious ceremonies and respect for the space as well. Ask if the flowers must be left as a donation or if they can be removed. This is church specific, but definitely worth asking.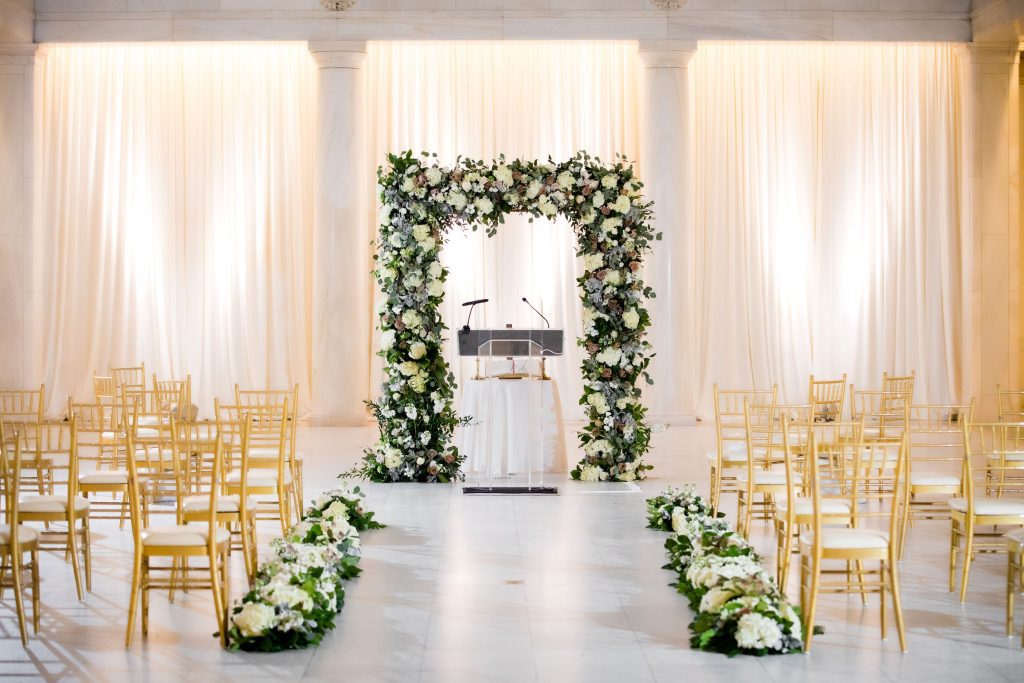 Wedding Photos
Your ceremony will be one of the most highly-photographed parts of your wedding day. Some couples do not place a large amount of emphasis on the ceremony and are most excited about the party. Say what you will- but without the ceremony it is just a party! So even if your vows are short, you'll want to have photos and videos to remember them by. And you'll want those photos and videos to capture the essence and experience of your carefully planned wedding day. Therefore, after (or before) the ceremony, you will likely take formal portraits in front of the ceremony space.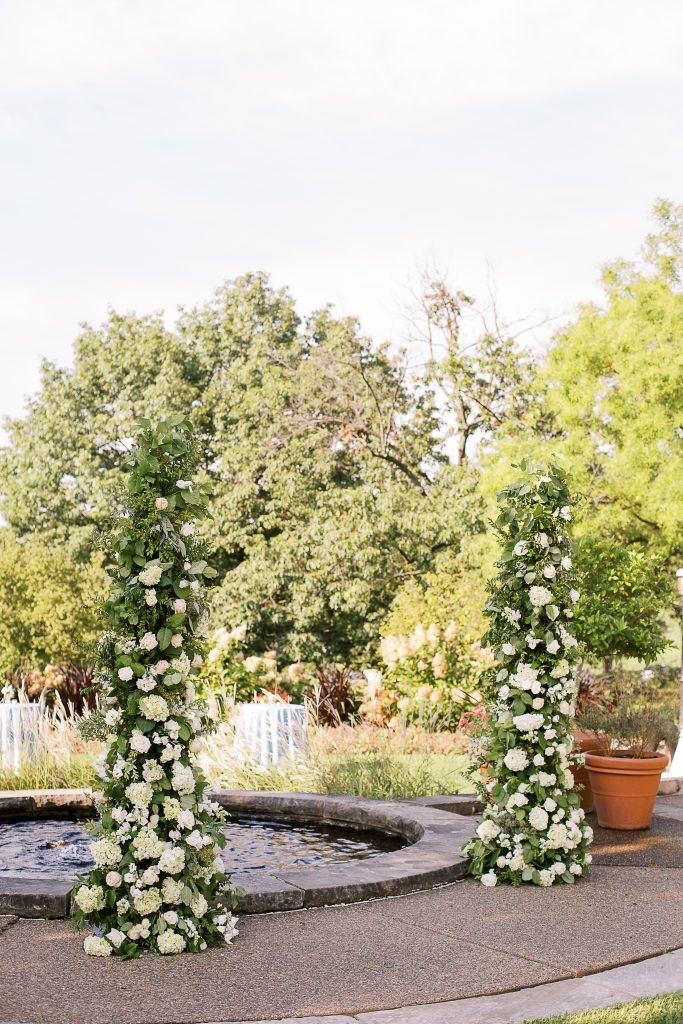 Aisle flowers can also help define the pathway for guests. They make for a beautiful photo of the walk down and back up the aisle. They just add an extra special touch to the ceremony space. Even some small clusters of flowers and greenery can help bring your color palette further throughout the wedding day. They can really complete the ceremony space. This type of design beautifully compliments church pews and chairs; they work in any venue!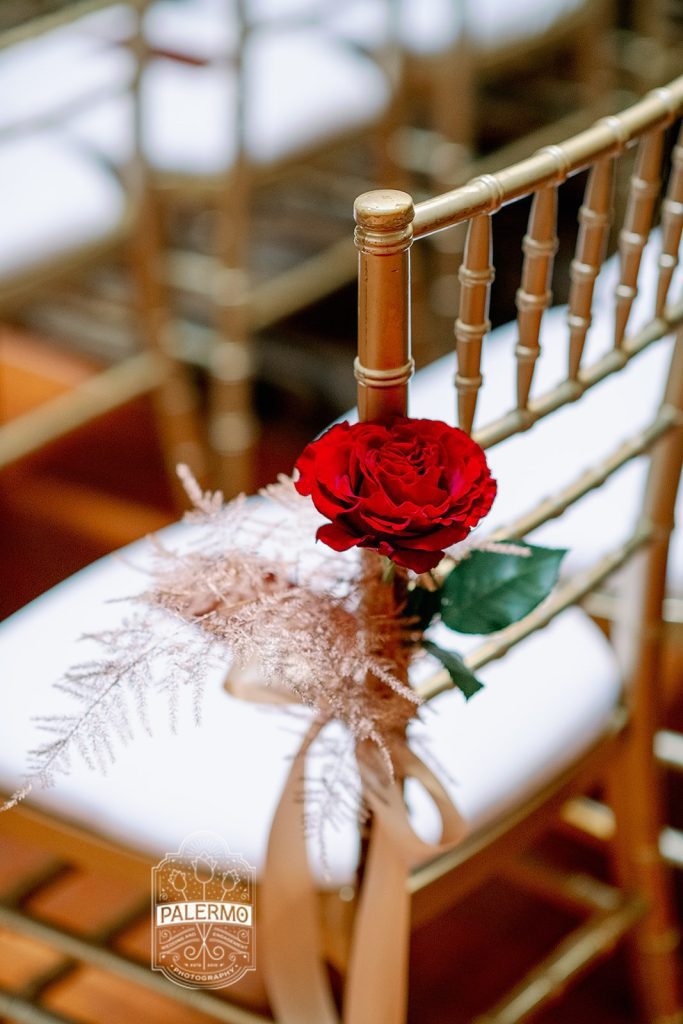 ---
Photography Credits
Dawn Derbyshire Photography | Lauren Renee Photography | Levana Melamed Photography | Hot Metal Studio | Palermo Photo | Abbie Tyler Photography | Leeann Marie Photography | Michael Will Photography | All Heart