Wedding Flowers Consultation: What to bring
Once you are engaged, it can be easy to jump into planning all of your wedding details right away. The pace at which everyone plans is personal and dependent on many factors. However, there is a rhyme and reason to the order and timeline in which you meet with your vendors that will help you be most efficient and successful in your endeavors.
Your flowers will play an important role in setting the tone for your wedding day. They'll tie together the emotions you wish to evoke for your family and friends. They will enhance the color palette that speaks to your love story. Therefore, you'll want to meet with and decide on a florist early in the planning process. Typically, shortly after you've booked your venue(s) and have a date locked in. We recommend 18 months to a year out. Once you have that, there are a few other items on your checklist. These items will help you have a successful wedding flowers consultation with your potential florist.
What you MUST have:
A firm wedding date
We won't know if we're available unless we know your date for sure!
Signed contracts with your venue(s)
This guarantees your date for us. It tells us what types of flowers will be needed and what delivery and set up will be like. We've worked at nearly every venue in Pittsburgh so we know our way around the venues and their guidelines! We can make some great suggestions to make the most of your space.
Approximation of guest count
This allows us to make a good guess at table count for centerpieces. That way, the estimate is as accurate as possible.
1-3 words that describe your wedding feel
Color inspiration
Inspiration photos, fabric swatches, and invitation samples all work
If you aren't sure what colors you want, we LOVE color! We would be more than happy to help create the perfect color palette for your big day.
We have another great post on this too!
List of floral allergies if you have any (ie: lilies, eucalyptus, etc)
We don't want you sneezing down the aisle!
An idea of your flower/decor budget
This will help us discuss appropriately sized designs and make suggestions that will make the most of your budget.
Round or rectangle tables, or a mix?
We can estimate without this but your final cost may vary greatly depending on the final layout. 8' long guest tables are priced much differently than a 72" round table. Even if you aren't sure right now, knowing what is possible and what you're dreaming of helps. (Hint: round tables are almost always more cost effective than long tables).
Great to Haves:
A photo of your dress- preferably with you wearing it (if you have it already).
No worries if you haven't found "the one" yet! But if you have, we love to see a photo of YOU in your dress. It helps us get a better idea for shape and scale of your bouquet.
Swatch of your bridesmaids dress(es)
At the very least, an idea of what color(s) you'd like your wedding party to wear
If you don't know yet, don't worry! We might even be able to give you some guidance once we have an idea of the color palette.
Bridal party count (roughly)
We know this might change, but having an idea of how many people need flowers will make your estimate more accurate. We can always add or subtract later.
Inspiration photos
These will help us make sure we are on the same page with your vision. "Classic" can have many different meanings to different people.
Names and contact info of pertinent booked vendors
A vendor list like venues, photographer, and bakery are so helpful for us. We can always add to the list as you book everything.
If you have a few vendors booked already, let us know! We've been in the industry for many years and have worked with lots of the best in Pittsburgh. If we know who we're working with, we can collaborate with them to make your day run even more smoothly.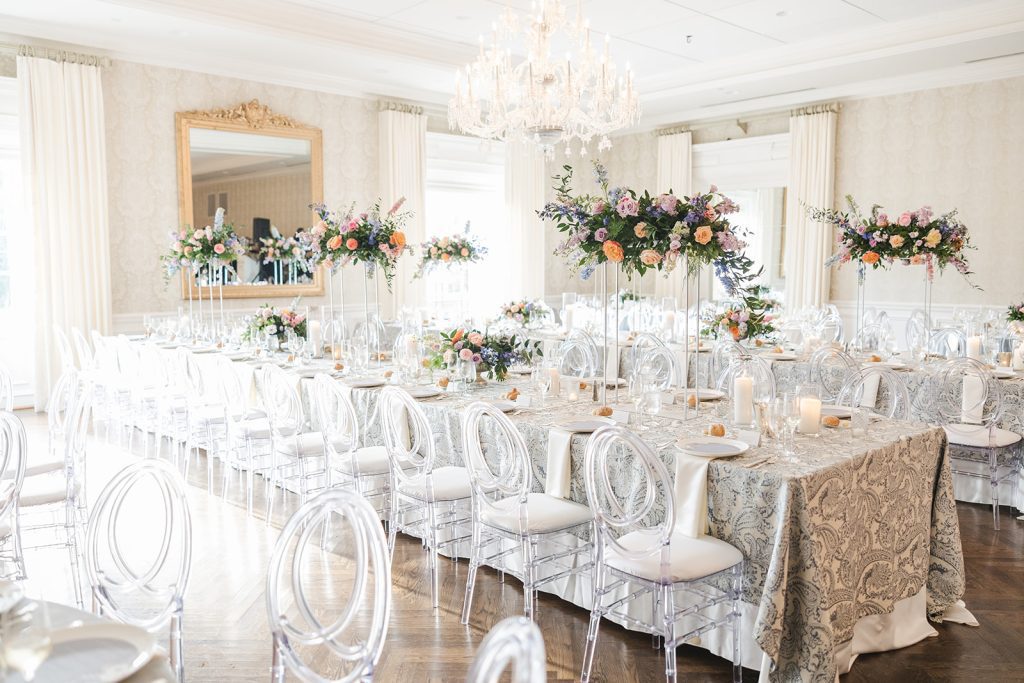 Ceremony and reception times
We know sometimes these aren't set in stone right away, but having a good idea will help estimate us labor for set up and tear down appropriately.
We'll be super impressed if you have:
Table layout (best guess)
If you have a basic idea of the table layout already (plus or minus a table or two), we'll be able to give you the most accurate proposal possible.
Photos of the venue
We've worked in many venues all over Pittsburgh. So, we're familiar with lots of spaces. If you've booked a new or unique venue, photos will help! That way, we help you figure out the best options for the space. Having these handy in a Pinterest Board or on your phone is great.
Photos of the church if you're getting married in one
We've been to a lot of churches, but photos are always helpful. Pittsburgh has A LOT of beautiful churches! Maybe we haven't been to yours in a while, or it's new to us. A photo of the altar and a wide shot from the back will help us determine flower placement. HUGE BONUS if you have a pew count if you want pew flowers.
Venue/Church rules
Every venue has rules about

Access times
where and how flowers can be attached
vendor clean up times and responsibilities
vendor access (stairs, elevators, parking, etc)
use of live flame candles vs. artificial

Even in venues that we've been in dozens of times, rules can change. There may be special circumstances on your wedding day that will help us estimate timing, labor, and designs appropriately.
Our goal is always to make the floral consultation process as easy and enjoyable as possible. Wedding flowers can feel overwhelming. But with some basic information about your wedding day, we can break down your needs, and design something beautiful. If you need more evidence of that, just check out what our previous clients have to say!
If you have any questions, just let us know. We are here to help! And whenever you are ready to talk all things flowers, start here!
---
Vendor Credits
Bright, colorful centerpiece: Abbie Tyler Photography
Soft, winter colors centerpiece: Leeann Marie Photography
Moody, dramatic centerpiece: Sky's the Limit Photography
Bright, spring color reception: Pittsburgh Field Club, Exhale Events, L.A.R. Weddings, Mosaic Linens, All Occasions Party Rental, Marbella Event Rental
Sweetheart table w/ custom monogram: Reverie Weddings and Events, Fairmont Hotel Pittsburgh, Ashley Sara Photography, All Occasions Party Rental, Mosaic Linens, Loyalty Entertainment
White cake w/ rose cascade: Tasty Bakery, Hotel Monaco Pittsburgh, Lex King Photography